Formulas made with you in mind.
As a woman-owned business, led by a team of women, we consider first the people—not the products. We strive daily to think about the needs & concerns of women going through the same things we went through, and then set-out to create products that truly address those needs.

That's why we created the Knours Komplex. A unique blend of sea buckthorn, mexican giant hyssop, and passionflower, it has been specially formulated to help women overcome the effects of irregular sleep, stress, and stamina on skin during the 3 M's.
Knours TM Komplex
Sea Buckthorn
Rich in various minerals, vitamins, beneficial plant compounds, and fatty acids such as omega-3, this powerhouse plants helps fight free radical damage on skin and promotes overall skin health by boosting elasticity, hydration, and clarity.
Knours TM Komplex
Passionflower
Full of nutrients the skin loves like essential fatty acids and Vitamins A & C, it also possesses anti-spasmodic and calming properties and is known to help skin overcome the negative effects of sleep interruption.
Knours TM Komplex
Mexican Giant Hyssop
Acts as an anti-stress, anti-redness agent that can help fight against and overcome the negative effects caused by environmental & psychological stress. It also is known to restore barrier function and give skin a natural moisture boost to enhance skin radiance and even skin tone.
Key Ingredients
Monk's Pepper Berry
A unique plant known for its high level of flavonoids and anti-inflammatory properties that can help regulate the menstruation cycle and rebalance your hormones, indirectly easing the symptoms of PMS and menstruation on your skin.
Key Ingredients
Moutan Peony Root
Known for its soothing, calming capabilities and has naturally occurring antioxidant properties that can help clarify and refine skin while protecting its natural barrier from harmful intruders.
Key Ingredients
Poria Cocos Mushroom
Poria cocos mushroom helps prevent the breakdown of collagen and elastin and acts as a regenerating and revitalizing agent to keep skin firm. It contains natural brightening properties to smooth & improve skin tone as well as organic acids & proteins for maximum skin function.
What we formulate WITHOUT:
Now that you've been introduced to some of the important ingredients we DO formulate with, here's what you'll never see in our ingredient lists:
Parabens
Phthalates
Silicone
Gluten
Petrolatum
Formaldehyde
Glycol
Triclosan
Triclocarban
Propylene
GMOs
NPEs
PEGs
SLS/SLES
EDTA/BHT/BHA
Synthetic
dyes/colorants
Synthetic fragrances
We are committed to 100% transparency when it comes to our formulas and provide full ingredients for all of our products.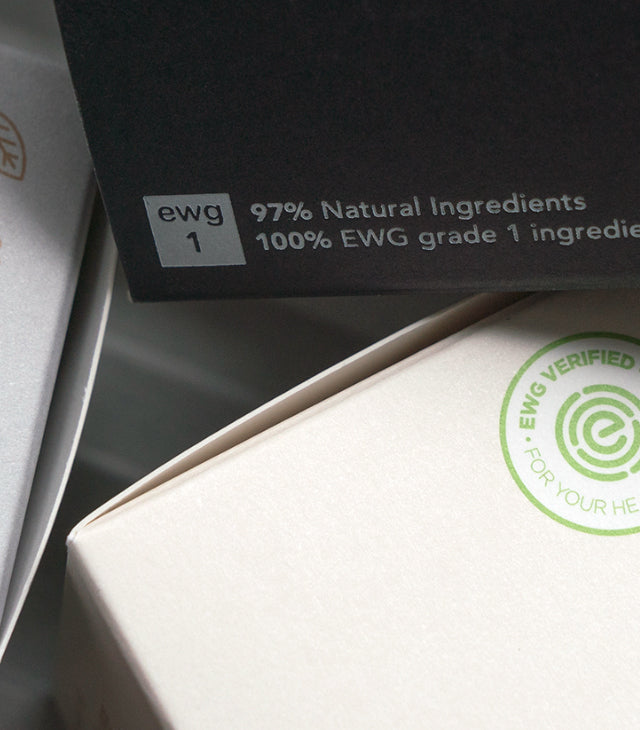 Environmental Working Group Verified
EWG is a nonprofit organization dedicated to empowering consumers so that they can make informed decisions about the products they purchase.

We use only the safest green-grade ingredients verified by EWG's Skin Deep® Cosmetics Database and proudly bear the EWG-verified mark on all of our products to display our commitment to 100% clean skincare. We believe that transparency is key and knowledge is power when it comes to purchasing dependable, effective skincare.
Eco-Conscious: Our Sustainability Efforts.
Caring for yourself should go hand-in-hand with caring for the environment around you. Our new box packaging is eco-friendly, using FSC-certified paper & soy ink, and our new kits will be packaged in biodegradable, compostable, sugarcane fiber earth-paks.

We are committed to transitioning all of our old packaging into guilt-free, easily recyclable components and are continuously researching ways to decrease our carbon footprint.